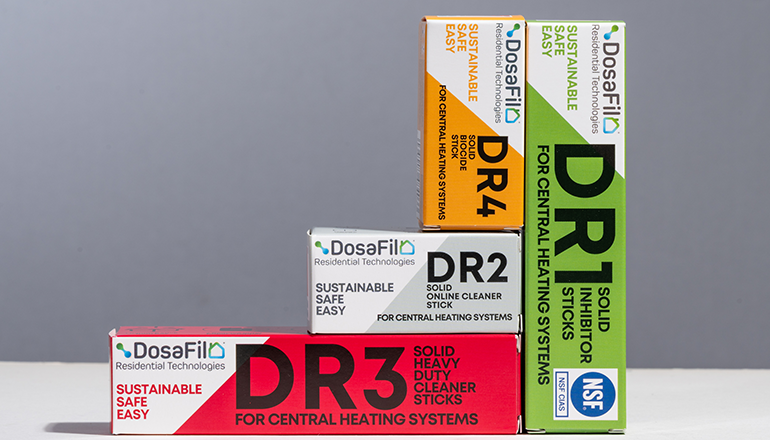 Solid alternative for treating heating systems
A new range of solid chemical treatment inhibitors, cleaners and biocides has been launched for the heating and plumbing sector. DosaFil is founded on the simple belief that water treatment does not need to revolve around huge quantities of liquid chemicals.
There are four key products: DR1 solid inhibitor sticks are the first solid inhibitor to gain NSF International CIAS (formerly BuildCert) certification. The other products are DR2 solid cleaner sticks, DR3 solid heavy duty cleaner sticks and DR4 solid biocide sticks.
The active ingredients come in a solid paste format that is as effective as the traditional liquid chemical approach but is far lighter to handle and transport and with no leakage or spillage in use. Because it's a solid, there's no plastic to end up in landfill.
"We set out to challenge the status quo, creating a safe, easy-to-install-and-operate water conditioning system that also addresses common key concerns of modern business, such as health and safety, eco-friendliness and reduction of energy consumption," says DosaFil boss Steve Crick.
The new products are compact and lightweight in comparison with up to 90 per cent of the contents of traditional liquid chemical water treatment products. The far lighter weight reduces transport costs, fuel use and storage costs and the non-spillable solid products are easy and safe to handle and transport.
Commercial director John Lynch adds: "Using solid water treatment products that can be used through introducing the products via filters or towel rail radiators as they wish, will save time, money and contribute towards sustainability and reductions in emissions and plastic waste."