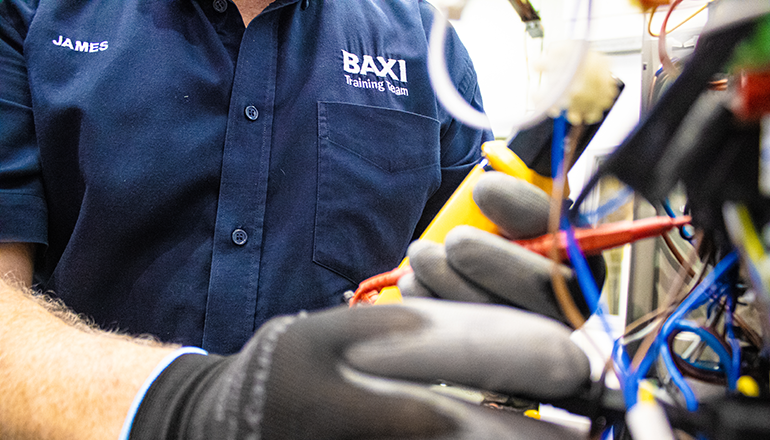 Boost your skills with Baxi heat pump training
Baxi has launched a suite of air source heat pump (ASHP) training courses to support heating engineers become qualified to install the increasingly popular technology. The courses at the company's network of centres provide practical, hands-on training, delivered by accredited training experts.
The ASHP Product Day explores the principles of how a heat pump works, the Baxi product range, installation considerations, the policy landscape and the grants available.
For those looking to gain their Microgeneration Certification Scheme (MCS) accreditation, BPEC's accredited ASHP course is a hands-on programme that covers the principles of design, installation, commissioning, and servicing. This course is delivered by Baxi and can include water regulation training for those who have not done their qualification. After a formal assessment that leads to a nationally recognised BPEC qualification, heating engineers can use the qualification to demonstrate competence in heat pump installation for their MCS application.
BPEC course applicants can use the Heat Training Grant of up to £500 towards the cost of training. They can also earn £1,000 worth of Baxi Works loyalty points once they register their first Baxi heat pump via the scheme. 
Finally, installers already fitting heat pumps with BPEC accreditation, or another recognised heat pump qualification, can take Baxi Heat Pump Installer Training. The modular courses give in-depth knowledge and practical skills and are split into two parts: part one on design and application and part two on installation and commissioning of Baxi ASHP products and accessories.
After the course has been completed, Baxi provides a free commissioning supervision service to give additional support on the first installations. Once heating engineers are comfortable with the installation and satisfactory commissioning checks have been made, they can become a Baxi Heat Pump Installer, and earn enhanced warranty and points on installations through the Baxi Works loyalty scheme.
Renewables director Harriet Evans says: "Whether they are just starting out on their journey, or are an experienced heat pump engineer looking to specialise as a Baxi Heat Pump installer, our training offering is all about getting installers comfortable with heat pumps."