As Gas Safe Register's successful 'Don't Cut Corners with Gas' campaign draws to a close, the Register has chosen its top five photos that highlight the dangers of cutting corners when it comes to gas safety.
As part of the campaign, registered gas engineers were encouraged to post examples they had found of poor gas work where corners had been cut. To date, over 100 photos were shared over social media.
The aim of Gas Safe Register's campaign was to raise awareness among families of the importance of not cutting corners when it comes to their gas appliances, and why they should only use a Gas Safe registered engineer.
The top five photos, chosen by Gas Safe Register, are:
A Gas Safe registered engineer found a homemade flue extension and toilet isolation valve used on a gas hob
A Gas Safe registered engineer found a flue extension connected to an old, rusted WD40 can
A Gas Safe registered engineer discovered a customer trying to install their own gas cooker, very dangerously
The Gas Safe registered engineer had to shut this fire off as it was leaking products of combustion, risking exposure to carbon monoxide
A Gas Safe registered engineer found an open flue spilling products of combustion.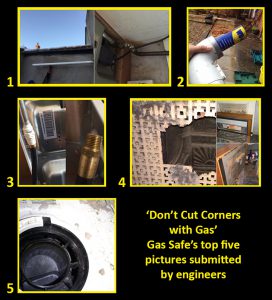 The 'Don't Cut Corners with Gas' campaign went live across various media channels, which included digital marketing, advertising billboards and radio ads on selected stations such as Absolute Radio and Smooth Radio.
The national campaign also revealed the specific cities most at risk from unsafe gas appliances, as identified by Gas Safe Register's Investigation's Team.
Household decision makers were targeted to educate them about appliance maintenance and the importance of only using a Gas Safe registered engineer to keep their gas appliances working safely and efficiently. These decision makers were targeted through partnerships with Netmums, Your Home and HomeStyle.
Netmums, a parenting website, hosted a coffeehouse thread for parents to share their stories of cutting corners with gas.
Both HomeStyle and Your Home magazines hosted articles about the campaign, which encouraged first-time buyers and those already on the property ladder to ensure they only employ Gas Safe registered engineers.
Both magazines found that their readerships became more aware of Gas Safe Register and its role following the partnership content going live across their websites, through a social media competition and in e-shot emails to their subscribers.
Jonathan Samuel, chief executive at Gas Safe Register, said: "Ensuring gas appliances are working safely and efficiently should be a top priority for families and it is important that they are aware of the dangers of cutting corners, and the risks of using a tradesperson who is not Gas Safe registered.
"The brand awareness campaign was a huge success. It was great to see so many registered engineers engaging with the campaign and sending through their examples of unsafe gas work, as they play a vital role in helping us inform the public on the importance of gas safety."
To view the 'Don't Cut Corners' video on YouTube, click here.