Advertise with us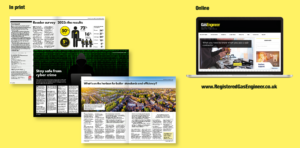 Registered Gas Engineer is the only official Gas Safe Register magazine, and is received by every single Gas Safe registered business across the UK. It has been the leading gas industry trade magazine since launch in 2009.
More than 80,000 registered businesses receive the magazine:
• 74 per cent of gas engineers trust RGE to be the most accurate and authoritative trade magazine
• 74 per cent say they would choose RGE if they could only receive one trade magazine
• 70 per cent of engineers value RGE the most for technical information.
At least 6,000 new engineers register with Gas Safe Register every year – and advertising with Registered Gas Engineer is the only way to guarantee that your messages will reach them straight away.
Advertisers know and respect what they get from placing an ad in the printed magazine mailed out to every Gas Safe registered business. It is a cost-effective advertising communication channel.
You can download your copy of our RGE Media Pack 2024
For all advertising queries, email Sales Director Ian Carter at ian@rgemagazine.co.uk or call 020 7183 1815 or 020 3475 6811.