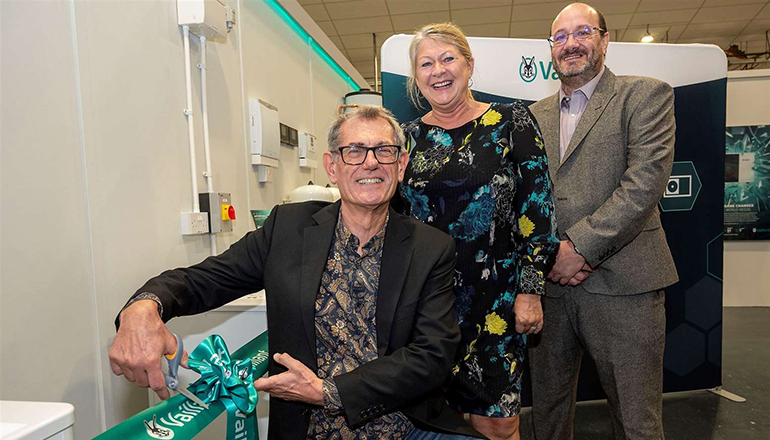 Vaillant teams up with West Suffolk College for heat pump training
Vaillant has joined forces with West Suffolk College to open a new heat pump training facility that will provide low-carbon training for students, apprentices and heating engineers in East Anglia.
The partner centre in Bury St Edmunds expands Vaillant's in-person training capabilities. The company expects to see more than 500 installers trained in the design, installation and maintenance of heat pump systems at this site alone in the coming year.
The new centre will host Vaillant's own product courses that upskill heating engineers in heat pump technology and offer practical modules within its Aspire Heat Pump training pathway. The centre will also serve West Suffolk College's student population, supporting low-carbon and plumbing and heating apprentices and students with practical skills. The college will also offer its own regulated Level 3 Heat Pump qualifications to existing installers.
All courses on Vaillant products will be to the same high standard as those in the company's six Centres of Excellence and other training partner centres around the UK.
Vaillant Training and Technologies director Mark Wilkins says: "Customer interest in heat pumps has continued to grow, certainly in the past two to three years. With the Prime Minister's recent statement on net zero detailing an uplift in the Boiler Upgrade Scheme grant to £7,500, the need to have enough installers properly trained and able to advise and fit this low-carbon technology is vital.
"Not only in meeting this aim but also in securing consumer confidence in the performance of this technology and ensuring the pathway to finding an installer is made as easy as possible."
Phil Stittle, executive director for Business Development at West Suffolk College, says: "Our partnership with Vaillant opens the doors for even more installers looking to invest in training and make the move to incorporate heat pump installation into their offering to customers. For many installers, heat pump technology is still relatively new, so having product on site that they can work with and ask questions, will go a long way to building confidence needed to take the step to this low-carbon technology."