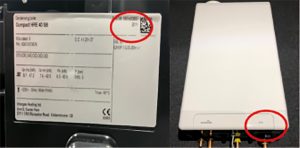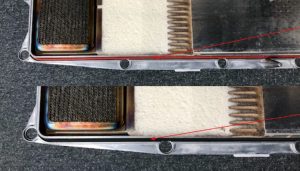 Intergas HRE 36/40 and HRE 40SB front plate seal upgrade
Date issued: 28 February 2019

Gas Safe Register has been advised by the manufacturer Intergas of a safety concern relating to the HRE 36/40 and HRE 40SB boilers.
The HRE 36/40 and HRE 40SB products have had a front plate seal upgrade to improve longevity – which had been identified as a safety concern.
Affected serial numbers
For safety reasons, all boilers produced within serial batch numbers 1210g09094 to 1611e17513 must be upgraded with the new Viton black seal.
For identification purposes, the serial number can be found underneath the boiler as shown (right).
Front plate seal
The front plate seal has been upgraded from the red seal to the new black seal. The part number for the new black seal is 620274.
What do I need to do if I own, use or service one of these boilers?
Please contact Intergas to check whether this seal has already been replaced or, if necessary, make an appointment for an Intergas engineer to attend.
Where the integrity of the front plate seal has been affected, the current Gas Industry Unsafe Situations Procedure (GIUSP)(1) should be implemented and the appropriate actions and warning notices/labels completed and issued.
The Intergas Technical & Service Department can be contacted on tel: 01527 888000 or email: service@intergasheating.co.uk