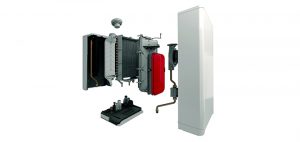 Intergas is celebrating the launch of two new boilers by giving 10 gas engineers the chance to win a £100 voucher towards the cost of its new Xclusive or Xtreme models.
Intergas has added two new 'xciting' boilers to its 'xceptional' range. The Xtreme and the Xclusive are more gas engineer-friendly than ever and packed with new features. There's an illuminated touch-screen display panel, an expansion vessel incorporated within the boiler, a combined PRV and condensate connection, an integral filling loop and dual OpenTherm inputs. The Xtreme has a built-in flue gas heat recovery system for even greater efficiency.
Both boilers come fitted with an RF module, which, when connected to the wireless Comfort Touch system and free app, gives gas engineers access to the boiler's operation via their mobile devices, and the facility to change parameter settings remotely. The homeowner also has an app which turns their smartphone into a smart thermostat, so they can control their heating on the go.
The Xclusive comes with a 10-year warranty and the Xtreme with a seven-year warranty. All the features that make Intergas 'xtra-special' remain: the build quality is as robust as ever, there are still only four moving parts and three plastic components, the unique heat exchanger means there's no need for a diverter valve, valve motor, secondary hot water plate heat exchanger or auto air vent. And, like the rest of the range, these boilers can be converted to heat-only, sealed-system, open-vent, open-vent combi and multipoint water heater.
Your chance to win 
To be in with a chance of winning one of 10 £100-off vouchers, all you have to do is answer the following three questions correctly:
What does the RF stand for in 'RF module'?
Which video games console was launched by Microsoft in 2001?
Which new boiler has a 10-year warranty?
Email your answers, plus your name, address and registration number to competition@178.128.162.27 and please remember to include Intergas in the subject line.
Ten winners will be drawn at random from all correct entries received by Wednesday 19 December, 2018.
TERMS AND CONDITIONS
By entering this prize draw, you agree to these terms and conditions:
Registered Gas Engineer and Intergas do not accept responsibility for lost, delayed, corrupted or invalid entries.
Ten winners will be chosen at random from all correct answers submitted in accordance with these terms and conditions.
The winners will be notified by email. The judges' decision is final and no correspondence will be entered into.
The prize is non-transferable. There is no cash alternative.
The prize cannot be substituted or upgraded.
Registered Gas Engineer and Intergas may disqualify you from winning if they have reasonable grounds to suspect that you are in breach of these terms and conditions or your participation is fraudulent or otherwise unlawful.
This draw is not open to employees of Intergas, Gas Safe Register or Registered Gas Engineer or their direct family members or agents.
Registered Gas Engineer and Intergas do not accept any responsibility for any network connection, technical failure or other problem in any telephone line, network, system, provider or otherwise which results in any entry not being properly recorded or received.
One entry per person.
Your entry details will be provided to Intergas, which may use them for marketing purposes. By entering this competition, you agree that you may receive communications from Intergas. If you do not wish to be contacted, please add NO COMMUNICATIONS in your email entry.