Thanks a million to Ideal
in News
— 14 Oct, 2014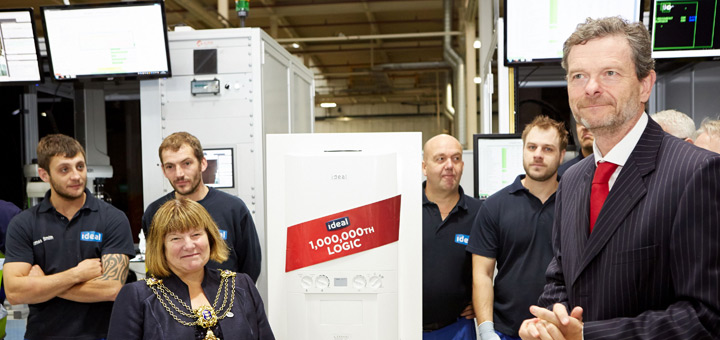 The Lord Mayor of Kingston upon Hull was on hand at Ideal Boilers to help celebrate the company's 1 millionth Logic boiler as it came off the production line.
Councillor Mary Glew toured the factory with Ideal's operations director Doug Lloyd and met some of the staff, including longest-serving employee Melvyn Simpson. Melvyn joined Ideal in 1962 when he was 15, and has worked for the company for 52 years.
Head of marketing Carrie Young says: "We were delighted to welcome the Lord Mayor of Kingston upon Hull to celebrate the production of the 1 millionth Logic boiler with us. We're continuing celebrations with our staff and loyal installers. Each Ideal employee will receive a lottery ticket as a gift from the company and we will be running an online free prize draw to win a Logic boiler for our installers.
"The 1 millionth boiler will now be going to independent charity, the Mercia Therapy Centre, based in Coventry. The centre administrator contacted us to ask for help with replacing an old, inefficient and expensive heating system and we wanted to give our 1 millionth boiler a special home, while helping out an excellent cause."
The Mercia MS Therapy Centre provides therapies to people with multiple sclerosis, those recovering from stroke, children with cerebral palsy and autism and other conditions.