Retro Boiler label aims to kill off 'zombie' boilers
in News
— 16 Nov, 2016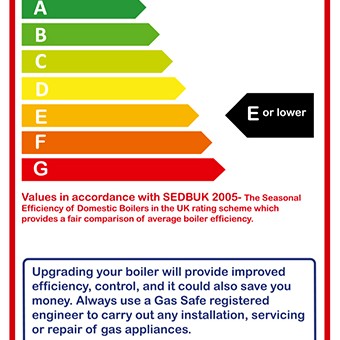 A new 'Retro Boiler' label scheme goes live today (16 November 2016). The scheme will see registered gas engineers issue an energy efficiency label, a 'Retro Boiler' label, on all non-condensing boilers that have a permanent pilot light, when they visit homes to undertake servicing or maintenance work.
The scheme, from the Heating and Hotwater Industry Council, aims to increase consumer awareness of boiler efficiency, in particular the performance of their own boiler. In turn, it is hoped that this will result in inefficient and costly boilers being replaced with more efficient models.
HHIC director Stewart Clements says: "HHIC estimates that there are approximately 9 million inefficient boilers in the UK. A large proportion of these are over 20 years old and would be classed as 'zombie boilers': boilers with old technology that never seem to die, yet remain highly inefficient – costing homeowners in terms of higher bills, the planet in terms of higher CO2 emissions and a contributor to poor air quality, compared to a modern condensing boiler.
"A growing number of consumer electrical products such as washing machines, fridges and vacuum cleaners feature an energy label, which helps consumers to quickly assess how energy efficient their appliances are, and therefore how much it will cost to operate. The heating industry recognised this and, under this 'Retro Boiler' label scheme, will be providing a similar label for older inefficient models.
"A boiler label scheme has been operated very successfully in Germany and we believe that it could have a similar impact in the UK. Replacing a Band E or below boiler with an A-rated boiler could see gas bills reduced by approximately £150 per year and a saving of 0.7 tonnes of CO2 each year for the typical UK household."
HHIC and boiler manufacturers will be talking about the scheme and giving gas engineers a supply of the 'Retro Boiler' labels at the scheme's launch at PHEX Chelsea.
Baroness Neville Rolfe, minister at the Department for Business, Energy and Industrial Strategy, says: "This is a fine example of the collaboration and initiative that makes the UK gas boiler market one of the largest and most valuable in the world. Helping consumers to optimize their household heating fits perfectly our vision of ensuring that the UK has a reliable, low cost and clean energy system."