Are you Britain's Top Tradesperson?
in News
— 29 Sep, 2015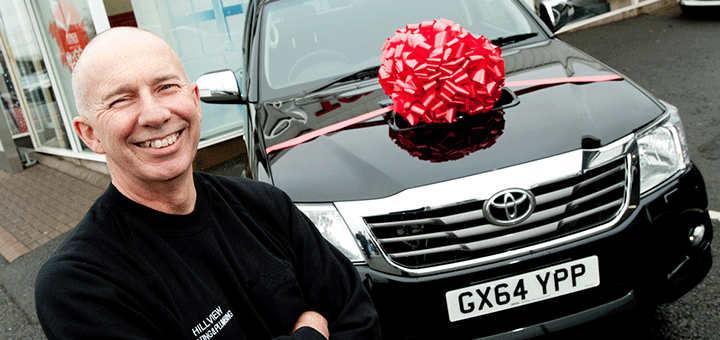 Qualified plumbers and heating engineers from across the UK: put down your spanner, turn off your drill, this is your last chance to enter this year's Britain's Top Tradesperson (BTT) competition from Screwfix.
Screwfix is on the hunt to find and recognise those perfect plumbers that keep the UK's homes and businesses in top condition.
Not only will this year's worthy winner walk off with the title of Britain's Top Tradesperson but they will also win the keys to a brand new Toyota PROACE or Hilux with all the gadgets they need worth £30,000 (OTR).
Last year, Raymond McKnight, a plumber from Newtownabbey, Northern Ireland, took the crown after fighting off worthy competition from thousands of entrants. He wowed a judging panel with his passion and dedication to his trade.
Raymond says it has had an amazing impact on his business, bringing him new customers and filling his diary for months ahead. "It has been an unbelievable year. Holding the title of Britain's Top Tradesperson has been a great endorsement for me.  When customers see that someone in the local area has been named as top in the UK, they know they can rely on you to do a top job.
"The last year has been great, I would really encourage other tradesmen and women to enter and give it a go, there's nothing to lose and a lot to gain."
Screwfix's John Mewett says: "We run this competition to champion those quality tradesmen and women and to celebrate their success. It's the sixth year we have run this competition, and the calibre of entries improves year on year.  We're looking forward to meeting and rewarding those tradesmen and women who go that extra mile.  This year's winner will receive a Toyota van and the title of Britain's Top Tradesperson 2015, so it's definitely worth taking the time to apply."
Entries are open until 4 October 2015, with regional finalists going head to head later that month. The national final will be in November, where the overall winner will be named Britain's Top Tradesperson 2015.
• Enter at any Screwfix store or go to screwfix.com/btt, where you can also find more details of the competition.